Testing Broncolor UV Attachment Light Modifier
You probably already know the light The ultraviolet "black light"?
We've all had fun at one time or another with this type of lighting when we were younger. It is usually invisible to the naked eye. It can only be observed indirectly through fluorescence or using a specialized detector.
For several years, I have been using Broncolor brand lighting systems. Specifically the Broncolor Siros 800s lights. Broncolor is known for creating not only the best lighting systems for professional photographers, but also the most beautiful light. Broncolor offers a wide range of light modifiers to create precise lighting effects.
The art of photography allows you to explore several horizons and to express your full creativity and artistic sense. Lately I had the opportunity to test Broncolor's UV adapter and create a creative photo shoot. Many thanks to Broncolor Canada for lending me the UV adapter.
How does the Broncolor UV attachment work?
The UV adapter attaches directly to the flash like any other light modifier. This eliminates virtually all visible light from the flash. Only UV light remains.
Photo shoots in UV lights require working in complete darkness and we must make sure to eliminate sources of lighting that could "contaminate" our UV light. Indeed, the slightest source of unwanted light would reduce the effect of UV light. Luckily, our studio allows us to create a complete "blackout". Since we work in complete darkness, it was necessary to provide several continuous light UV sources to allow our team to see the makeup/hairstyle and to apply the fluorescent pigments in the right way. For the photo shoot, we also needed continuous UV light in order to see the model and be able to focus on our subject. You should know that it is not possible to use the modeling light of the flash when the UV adapter is attached to the flash.
Why use the Broncolor UV adapter?
Without the UV adapter, it is generally difficult to create photo shoots around these themes, because you will have to work only with "neon style" UV lights in continuous light. UV continuous light tubes are generally underpowered, which means it will take a lot of UV continuous light to start getting results. Also, the camera will need to be on a tripod and have a very long exposure, which is less desirable when shooting moving models. The Broncolor UV adapter allows you to exploit the full power of the flash and reduce the exposure time of the camera in order to freeze your subject and have a clear image.
Configuration of flashes and camera:
Based on the arrangement of my UV continuous lights and my Broncolor Siros 800s flash with the UV adapter, I found the best exposure time to be around 1sec. The advantage of my Broncolor flash is that I can configure it to trigger a given number of times within a given period of time. Everything is super easy and quick to program thanks to the Broncontrol application which allows you to control your flashes with an Apple device (IOS). In order to obtain bright and fluorescent colors and to have a sharp image, the best configuration was to program 2-3 flash triggers during 1 second of exposure on the camera (Canon 5D Mark IV). Having multiple triggers on my exposure time allowed me to freeze the motion of the model and let more light into the camera. Between triggers, there is the continuous UV light doing its job. This one also entered the camera and made it possible to illuminate the background.
For the background, I used a hyper reflective metallic paper. Since we were also shooting with continuous light, the reflection of continuous light on the metal surface provides a "light painting" effect that I find very interesting. We placed a fan on the metallic paper so that it is in motion and reflects the continuous light randomly. Since we were on a long exposure of 1sec, the movement of the metallic paper added movement and dimension to the background.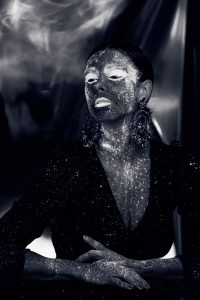 Photographer: Dariane Sanche
Assistant: Marc-Antoine Gascon
Model: Val.Brochu
HMUA: Marika D'Auteuil
Photos published in Imirage Magazine
Do not hesitate to contact us for more information on our professional photography services.
---